Unique carpets with a subtle reference to the Dutch cultural landscape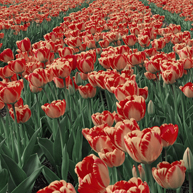 Bulbfield and knitting patterns
The lines of the Dutch bulbfields or asparagus beds was the inspiration for my experiments with historical knitting patterns combined on a large format.

Craft in other contexts
Centuries old knitting from Scandinavia and countries around the Mediterranean get more strength and warmth by knitting with double thread. By alternating the colour I play with the visibility, contrast and atmosphere of the pattern. The then acquired mix of knitted fabric results in the final carpet. Each piece is unique and handmade out of wool/acrylic, pressed on felt. Notice how the softness of the knitting comes together naturally with the felt basis, which gives the carpets durable firmness.

A carpet can also be designed in own colour combinations on specific sizes or for a specific space. Ask for the possibilities.


Corien Bos
Karthuizersdwarsstraat 3a, Amsterdam.
Open:
Monday untill Friday from 9 to 4 uur
On weekends by appointment: +31 6 50 650 261 or
info@bosenco.nl